MORE THAN JUST PARKING AT THE AIRPORT BERLIN BRANDENBURG 
We offer more than "just" a parking space at Berlin Brandenburg Airport – while you travel, we take care of your car!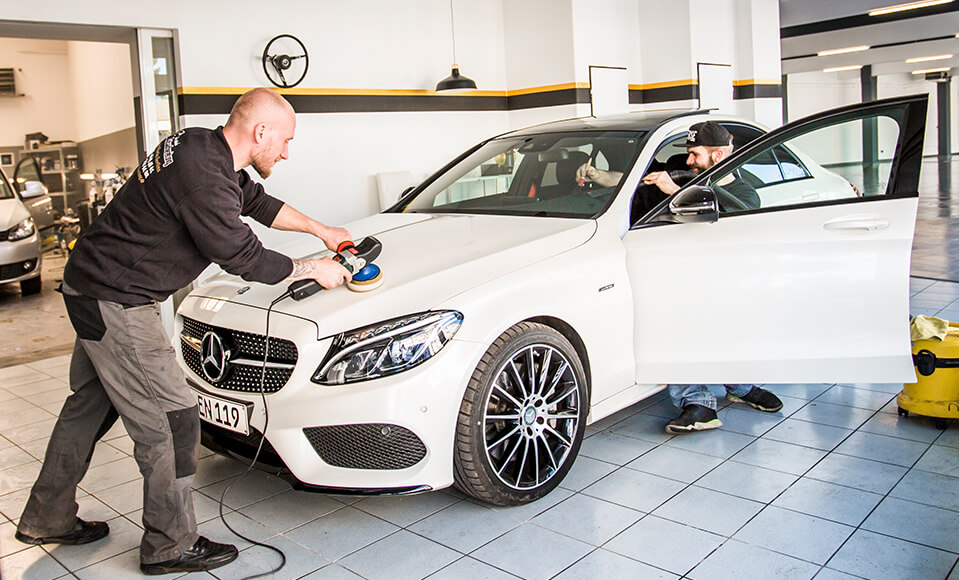 Car Wash at the Airport Berlin Brandenburg BER:                   139,00 EURO
(SUV, Van and Transporter -> additional charge 29,00 Euro *not bookable for stays from fridays to sundays)
CAR CARE – INTERIOR CLEANING
The interior cleaning includes the following services:
Extracting the entire interior including storage space, ventilation grille and trunk
cockpit cleaning
Window cleaning inside
Cleaning the plastic parts, the entrances and the ashtray
CAR CARE – EXTERIOR CLEANING
The exterior cleaning includes the following services:
Handwashing by hand
rim cleaning
Windscreen cleaning outside
Plastic and rubber care
Clean door rabbet
insect removal
CAR CARE COMPLETE
The complete vehicle cleaning includes the services described under the inside and outside cleaning.
If you want more, you can add the following services:
Shampooing of carpets and upholstery (alternatively, the leather is cleaned and cared for)
sky cleaning
Leather care
carpet cleaning
upholstery cleaning
ozone treatment
Pet hair Removal
Outerwear with high-quality hand polish
Rims intensive cleaning
Machine paint preparation (paint surface finishing and paint sealing)
Swisswachs paint surface sealing
Tree resin removal
tar removal
rim sealant
Convertible top cleaning
The prices for additionally bookable services depend on the size of the vehicle and can be requested from us!
Workshop Service
If you do not want to give up your vehicle, you will be able to complete the service interval or repairs during your absence. Also, the tire change during the holiday time can be done by us. We arrange reliable partners!
XXL Parking
If you book our XXL car park, you will get an extra large parking lot with enough space to the neighbors.
Security Parking
Our security car parks are located in close proximity to the car park supervision and are 24 hours video-monitored.
Key Deposit
The key deposit is NO MUST with us! On request, however, you can deposit your car key during your trip with us. We keep it in our secure vault. So a theft or loss during the journey is impossible.
Comfort parking
Your car is parked in the front rows to the check-in and the shuttle buses. Save yourself unnecessary walking distances!
Priority Shuttle
You want to be shuttled preferentially? No problem! With Priority you drive first.