choose airport

Our exclusive Valet-Parking-Service at Berlin Brandenburg Airport
BOOK A PARKING SPACE AT BERLIN-BRANDENBURG AIRPORT AND USE OUR VALET SERVICE.
Start your journey comfortably by simply driving to the Terminal of Berlin Brandenburg Airport. A professional employee of us will be waiting for you there. After the handover protocol has been drawn up, you will hand over your keys to him. While going to your check-in, your car will be taken and placed at the reserved parking space for you.
By the way: Our parking spaces are located nearby, approx. 5 minutes from Berlin Brandenburg Airport BER.
VALET PARKING – WHAT IS IT EXACTLY?
The VALET Parking is our most exclusive parking service. The difference to our standard parking service (including shuttle service to and from the airport) is that you do not have to drive into the parking place yourself before your flight. Instead, you simply drive your car directly to the airport and hand over the vehicle and keys to one of our authorized employees. They will immediately park your car on our parking lot and take it back to the airport on your return to pick you up. Parking at Berlin Brandenburg Airport couldn't be more comfortable and stress-free!

You just concentrate on your journey and leave everything else to your Valet Park Service employee.

Good to know: The idea of Valet Park Service origins in the USA and belongs to the services that have been offered there for a long time for example at airports, hotels, restaurants or at events.

 
THE PROCEDURE AT THE BEGINNING OF YOUR JOURNEY
You can book the Valet parking service at BER Airport right here.

Call us 15 minutes before arrival at the airport to arrange a meeting point.

Maximum time savings – just drive directly to the departure terminal of Berlin Airport BER.

A trained employee will welcome you.

Together with you, we will draw up the handover protocol including photos of the vehicle, mileage and tank capacity.
THE PROCEDURE AFTER YOUR RETURN FLIGHT
After you have landed safely at Berlin-

Brandenburg

Airport, we will bring your car to the terminal.

Please call us from the baggage claim area under the mobile phone number on your pick-up ticket.

Our staff will be then able to wait for you at the terminal exit.

When you return the vehicle, you will also receive a handover protocol, just for your personal protection. After this, the keys will be handed over.

Now, all you have to do is get in your car and drive home savely.
YOUR QUESTION WAS NOT ANSWERED?
Please send us an e-mail to info@dein-stellplatz.de or use the contact form. If your question relates to an existing booking, please let us know your booking number.
We will Respond as soon as possible.
Spam protection (solve math problem) 9 - 3 =
send
X
THANK YOU!
WE HAVE RECEIVED YOUR MESSAGE.
We will check your request and get back to you as soon as possible.
Please check your entry!
Please solve the math problem correctly!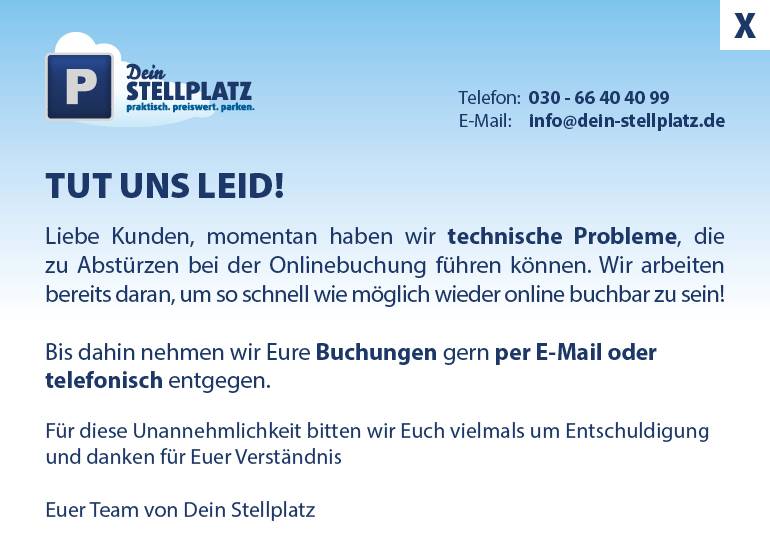 Bitte warten, du wirst automatisch weitergeleitet.